In a king's castle, the treasury houses all the valuable items the king owns and which constitute his riches. It isn't just gold coins and jewellery: it could also consist of rare spices and other luxury goods such as fine fur cloaks and precious metal items like candlesticks and bowls.

Come into my treasury and look around. Outside you can see my dragon, Solomon, guarding the castle, and the treasure.

Shut the door, we don't want the servants to pilfer anything! Now see if there's anything in here that you like. This treasury is not for me, it is for you!

This is where you will find things to take home and use for yourself. I hope you enjoy it!

I have been drawing and making paper dolls since I was a child.
Here, I have scanned two dolls in black and white so you can download them,
colour them, cut them out and dress them. I still love doing it, and
there are loads of adult collectors, so don't feel this is only for kids!!!


The dolls are:

The Knight and His Lady


This romantic couple are a fairytale come true. They have outfits covering
every century of the mediaeval period, and an outfit for every occasion
from travelling incognito to feasting in the most sumptuous style.


-download THE KNIGHT AND HIS LADY-

Claudia


She is a fashion plate from the 1920's, with a glamorous wardrobe I personally would die for! These outfits are taken from original clothing catalogues and playbills of the 20's. With her bobbed hair and sleek cloche hats,
Claudia oozes style and attitude.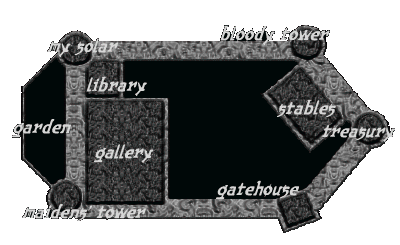 Gallery

Library

Garden
Tower of Maidens

My Solar

Stables
Bloody tower

Treasury


directory