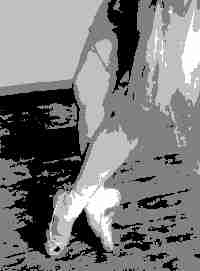 BEFORE CLASS

Walk in
Morning cool
Yawn, Body stiff
Strip of the layers of mundanity.
Sheath myself in my dancer's skin
Put up my hair
and begin.

One foot in front of the other
faster - faster -
floor squeaks,
pads of feet thudding
in monotony.
Ten laps -
arms pump.
change direction.
repeat.

Stop!
Chest yells out
lungs scrape at air -
Grab the barre
and hand
sweaty palms slip off
but still I grasp it
and let all the hot air
and sweat
and pressure
stream out.

Now stretch.
Place your foot here-
right here...
and breathe into it...
ignore the pain.
(rip-scream-tear-)
'Shi...!'
No.
Hold on.
Stretch.
Sweat.
Done.

Get up and
flex
weary, tingling
muscles
Jelly and hot and wet
and strongly alive.
Now you are ready.
Place yourself on the floor:
a glance at the musicians-
"And."


Dance.
1992
Index

SHE

She bursts into my vision
like a flame alive
Like an exquisite Monday's child
a reflection in a pool disturbed
She disappears; she is a vision
And then, like magic, to re-emerge
melting up off the floor
Melding into coloured light
Fingers flash and trace
a circle of air; see the sky
then Her - her face a dream
Hair flies
Body whips around, muscles tight
Again the vision dissolves
I am left with nothing this time
but a sparkle in the shadow on the floor
it winks at me
knowingly, infuriating me
and is blotted out as she
dazzles me once more -
Exploding before my eyes
reaching; without, within -
Dredging up the last vestiges
of emotion (motion) from my soul
with her eloquent fingers,
feet, neck, shoulders, face
flashing pictures, colours
dreaming up a dream that she's created
in my mind
And I sit here, lie here, cry here,
her benefactor, her victim, her vessel, her goal.
1992
Index

DREAM DANCER Somewhere
tonight
In a deserted city
There is a dancer on a stage
Running, stretching, warming
His supple body.
Every so often
He stops, looking towards
the theatre door. But it stands
silent, unbidding, still.
The dancer's body drops to the floor:
He grasps his foot, stretches his thigh.
Gets up again.
Flexes, points, flexes his feet.
Takes a step, tries an arabesque.
It is perfect.
He takes a few more steps, then
He leaps in a blinding whirl
of colour and muscle and heat,
And walks out of it aimlessly.
Why is he there?
He grasps his hands
behind his head, pushes back
His arms, stretching his tense shoulders.
He looks around, and sees no one.
Kicks his leg high, steps into a turn fluidly.
I lie here in the warm dark
But in the next moment,
I will close my eyes and sink
To go and meet the dancer, and
To join him.
1992
Index

MY OFFERING Your words confuse me -
sometimes I think I am hearing you,
And then I realise the messages
transmitted and received
are different - bewildering me in conflict.
And yet your words
drag from me such passion:
with or without my consent,
I am helpless to the magic of your
compelling music.
My whole body responds
my heart hears you -
You make an impulse begin
Which travels through me
manifesting itself in the beauty
I can only express in my dance.
So please accept my offering -
I may not understand you
But let me dance for you.
1992
Index